Client feedback:
Dragarta is absolutely an unique artist. I was working on my character's design and wished to see her conceptual view about it. I commissioned an ACEO piece from her and It was just wonderful! I am very impressed with her artwork; she is very professional, kind, open-minded and easily realized what I had in mind. I couldn't be happier, Fiver is just fantastic!
Dragarta displays a certain level of professionalism that often isn't found any more, or at least not amongst online venues. She makes sure to stay active and provide updates, whenever possible, and isn't afraid to have a little side-chatter either! Great for working out ideas, and figuring out how to make something else 'click', which is greatly appreciated. Thank you for all the time you spent; the piece came out stunningly.
This was very nice cooperation, the final product has satisfied me in 100%. Also, I was nicely surprised, because I missed open slots but I wrote to Dragarta and I got extra slot! Also, it was done very quickly and I got the package very quick.
Commission information
My current To Do list and status of each commission
In this section you will find everything you need to know about commissions created according to your wishes. Please read all the information carefully before contacting me with your assignment. By sending a payment, you agree to the Terms of commission.
What can I draw
My most frequent themes include various creatures from our world or the world of fantasy and mythology. I will gladly draw your original character or favourite animal. After consultation I can also accept themes that are less typical for my gallery, such as natural scenery, tribal tattoos, machines and other things. However, I refuse to draw violent and sexual themes.
What brands of art supplies I use
To achieve the best results, I use only high quality art supplies. All of my pictures are drawn on paper from brands such as Daler Rowney, Canson, Hahnemühle or Fabriano. Most of my artworks are drawn on white papers of different weights and textures, but interesting results can also be achieved by using black or coloured paper.
When drawing coloured pictures I like to use large sets of Faber Castell Polychromos, Lyra Rembrandt or Prismacolor coloured pencils. My favourite technique is also using Copic markers, but unfortunately they are not very lightfast, so I use them only for small pictures, which are not supposed to be hung on the wall. In addition, I am proficient in aquarelle, tempera and oil paints Umton or Rembrandt soft pastels, eventually I even combine multiple techniques. I will always prefer choosing the appropriate techniques myself, but I am also open to your ideas.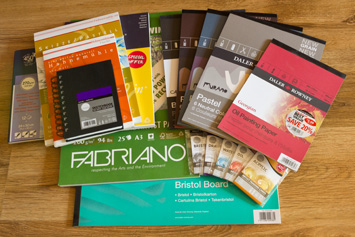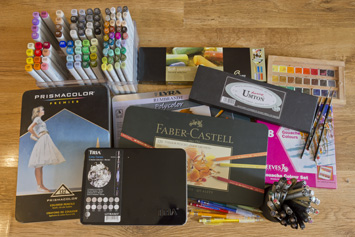 Art materials mentioned here are not the cheapest and some of them I even have to order from various countries. Be that as it may, the investment in quality supplies really pays off, because it helps me to work more comfortably and ensures long-lasting beautiful colours and details for your commissions.
If you do not need to hold the original in your hands, now I also offer digital creations. For such work I use graphic tablet Wacom Cintiq 13HD and I print my pictures on professional A3+ printer Epson.
---
Continue to additional information: